NetCyte Quick Deployment Document
This document is a summary of quick deployment of netCyte NAC solution from preconfigured virtual appliances

The objective of the quick deployment is to demonstrate discovery and analysis features of netCyte. netCyte is an agentless, 802.1X independent network access control and endpoint threat analytics solution to prevent unauthorised computer access to corporate networks. Please send a request to demo@cybercyte.com for a more detailed POC
For quick installation, NetCyte NAC is available with pre-configured VMWare or Hyper-V images. You need to deploy it to your environment and configure it. Virtual images contain all components required for discovery, analysis and management..

Component


System Requirement


Software Version


Remarks


NAC Server Virtual Machine


4 Virtual Cores


8 GB RAM


60 GB HDD


All Required software are installed


Given for 50 Normalized user (*)

Table 1 System Requirement
*Number of Active Users in Domain for which Inventory Collection Will be Made.

Please use below link to download predefined Virtual Machine according to your virtualisation environment

For VmWare ESX Environment

http://download.netcyte.co/NetCyte/NetCyte-ESX.zip

For Hyper-V Environment:

http://download.netcyte.co/NetCyte/NetCyte-HyperV.zip

For deployment of virtual machine please refer to your virtualisation platform guide. Once you finish deployment you can access Windows Server through console.
To login to Windows use:

User Name: nacdemo

Password: ChangeMe123!!
After log in to your system please change Ip Address of server suitable to you environment. Default IP address of Virtual Machine is 10.30.4.132. After setting up IP Address reboot the device.

After setting up IP Address you can access management console using http://<IPAddress>/netcyte

To login to system:

User Name: admin

Password: nac

Before logging in, the system requires a valid license. To get the license, click on the license link on the record on-screen and click Generate License Request and send the generated string to demo@cybercyte.com and your license request will be processed as soon as possible. Once your demo license issued, please apply for a license from the same screen license key is generated.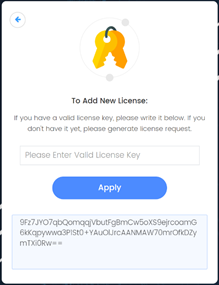 Figure 1 License Request Key and License Apply Screen

Once you successfully login please click
button to show the particular main menu items on top of left pane and click

picture next to NetCyte Logo to change menu from icon to menu names

Once you login to the system you will see the all host page. Because no discovery is made yet, you would not see any device. There are many ways to discover connected devices to your network, but for a quick demo, we will use the "Network Scanning" method to identify the target network. In the "Network Discovery" process System starts with ICMP Echo Request (ping), please ensure that ICMP Echo request allowed from NAC Virtual Machine to Client Network.
Please refer to the "Getting Started" guide for other discovery methods like ARP Table Analysis available in http://docs.netcyte.co/
For starting discovery go to Inventory Management--> IP Based Discovery and click

button on the right corner and definition page appears. On this screen, define the IP address range for discovery, and how often your clients should be rediscovered (Scan Interval) and how many threads will be created during the discovery process. Also, you can limit the execution time, either setting Execution time or Exclusion time. Once you finished your settings do not forget to tick "Status". The status enables or disables the discovery process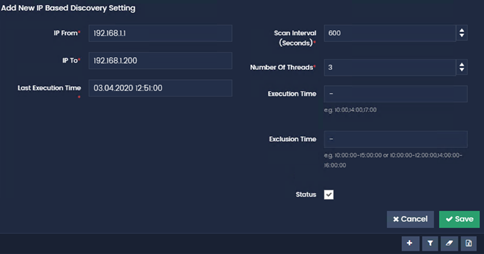 Figure 2 Define IP Ranges for Discovery

Once your discovery process is finished you can see your host under All Host menu without enumeration. For enumeration please proceed to next step
Figure 3 All Host view after Discovery

After discovery next step is Enumeration, or classification of your devices. Enumeration process is agentless. You do not need to install any agent or any other software to authorise method. The system tries to create a connection to the discovered device by using provided credentials. So, before proceeding to enumeration you need to define a credential to connect to the discovered device. NetCyte NAC uses SSH connection for Linux based devices, WMI for Windows-based devices and SNMP for identifying network devices. For Windows devices, please make sure that your user belongs to Administrators group on the discovered device
Sample Credential Definition:

To define the Credential go to Settings -->Credential page and click

button and credential definition page appears and define your credential .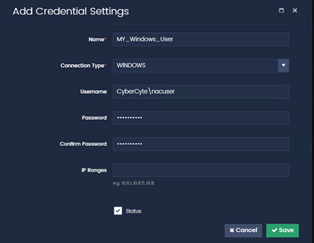 Figure
4

Defining Credentials

Please select your connection type and fill fields with suitable user and password information. All passwords are kept in encrypted.

Once you finished your Credential definition you need to enable Enumeration process. To do this

Go to Settings-->Global Settings and edit settings by clicking pen icon on each row. There are two settings for enumeration process.

1. 1. Select credentials will be used in enumeration: CLIENT ENUMERATION CREDENTIAL NAME.
Figure 5 Defining Enumeration User

Select the credentials that you define previous step and save it

2. Enable Enumeration Process: ENUMERATE CLIENT WITH REMOTE CONNECTION
Figure 6 Enable Enumeration

In this setting, tick the Setting value to enable it and save. Once you enable it, the enumeration process starts at the background. Please ensure that TCP/UDP ports are open as defined in Appendix Section of this document. Once enumeration is finished devices should be visible.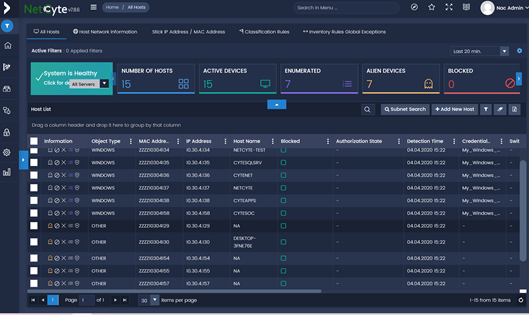 Figure 7 Sample All Host view after Enumeration

After the discovery process is finished, the next step is to check information about your devices. Please proceed to Inventory Policies..

All checks related to your devices come under Inventory Management à Inventory Rules. There are 20 predefined standard policies, but you can add more policies according to your needs. For defining new policies, please refer to the product documentation. All rules are by default are disabled. To enable any rule, click the edit button (pen icon) on the related rule for editing and tick status button bottom of the editing screen.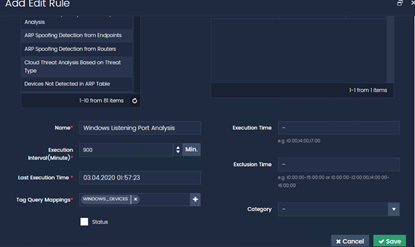 Figure
8

Enable Inventory Rule
Once you enable the Inventory Policy, it will be executed when the execution interval expired, and it will be re-executed in each execution interval.
The last step is to view your Inventory Policy Rules. For a visual representation of your inventory rule, please go to Visualization and Analysis
Thread Analysis: Analyse your Inventory Rules and shows potential Threads

Windows Malware Analysis : Show Potential Malware Fingerprints

Compliance Analysis: Shows how your devices is compliant with your security Policy

These are the analysis and visual representation of Inventory information which are collected form your devices. To access to detailed information for each inventory rule go to Inventory Management --> Inventory Information and select inventory rule type for view details.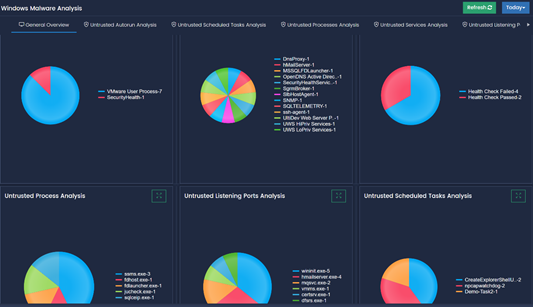 Figure
9

Sample Visual Inventory Analysis Screen
Figure
10

Sample Inventory Information

From


To


Ports (Default)


Purpose


NAC Virtual Machine


Client Devices


TCP 135-139


UDP 135-139


TCP 445


TCP 1024-65535 (WMI)


UDP 1024-65535 (WMI)


TCP 3389


ICMP


TCP 22


UDP 161-162





Enumeration and Inventory Policy execution.





WMI ports can be restricted through group policy.




Table 3 Network Access Requirements

Note 1: Default TCP/UDP ports are given as default access port. If you use different ports, please update the table according to it.